So...who would like an idea for a Super Easy AND inexpensive Mother's Day gift??? I know I would!! I have three Mother's that I give gifts to, so sometimes, something a little less expensive is ideal. Well, today, I am going to give you just that!
An Altered Candle in a Jar~!
I went to Wal Mart and bought a few different candles in a jar...they smell WONDERFUL and are only $5! You can't beat that!!! When I was selecting my candles, I tried to match the colors of the candle to the supplies I knew that I had on hand for the altering part.
For this one, I used the Pumpkin Spice...it is orange in color, and smells sooooooooo good! I know My Mother in Law is going to LOVE this!
SO....once you have your candle, gather the rest of your supplies...
...I used the May Kit for all of my supplies...including the ribbon add on and the GORGEOUS butterfly!! Mod Podge is a must.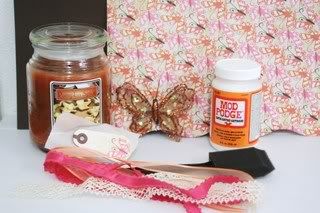 Next, you cut your patterned paper to fit around your jar...so that you can COVER that atrocious UGLY label that is on it. LOL...we are going to make a gorgeous label! You will cover your jar with Mod Podge...this will be your glue. Apply your paper label that you cut out...being sure to center it. Once it is on, you will cover that with Mod Podge again...this is the sealant part. Let it dry for about 15 minutes.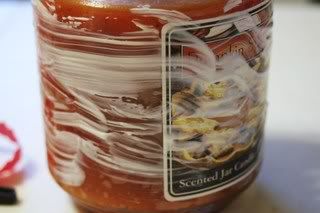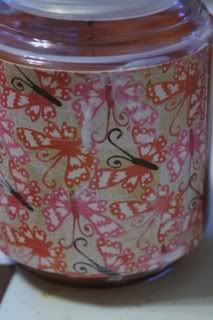 Next, I add a border to the top and bottom of the label. Sometimes it is a ribbon, trim...whatever...this time, I used my loopy Martha Stewart punch and created my own border using some Bazzill brown card stock from the May kit. Use the same steps for applying this as you did for applying the label.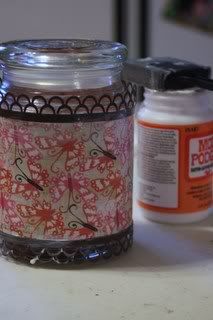 Now you will decorate that lid. Use your circle cutter to cut out a circle from paper to completely cover your lid. Mod Podge your lid, apply the circle, then Mod podge again...let it sit for 15 minutes. While it is drying, you can be assembling your flower for the top.
I used the lacy trim from my kit to make a center of a large lollipop flower. I did use mod podge on the paper to give it stiffness...or you can use a spray sealant...or even just use pre-made flowers...totally up to you!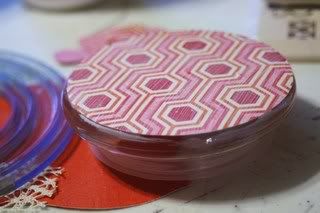 Once my flower was made, I hot glued my butterfly to the center and hot glued the whole assembly to my lid that had dried while I was working. Oh yea....I did use foam thickers...I find that the foam works a LOT better for forming around the face of the jar than chip board alphas do! LOL...of course you can use whatever you want...Just make it your own! ....Here is my final product.....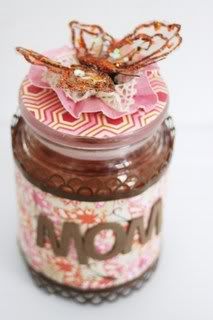 My next task is to make a matching card for this...but that should be super easy with the scraps that I have left over from the FANTABULOUS May Kit!!!
hope you enjoyed this simple Mother's Day Make-N-Take idea! If you make one...please post it in the Simply Obsessed gallery and on our board...we would LOVE to see your creations!